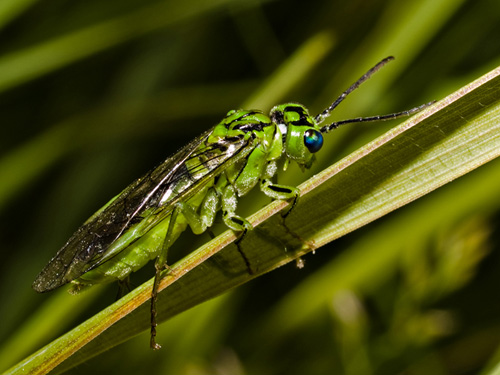 Taken with Olympus E500 digital camera on June 24th, 2007. Click picture for larger view.
Time for another macro photo of an insect. This time I have captured a sawfly (Rhogogaster viridis) clinging to a straw.
I really like the blue eyes on this sawfly. If you look at my other sawfly photo you can see that sawfly having a different eye color. I believe they are different species.
Need to get myself an insect book to educate myself on the nature around me.
Check out my other insect photos if you digg insects!
Information about the picture:
Camera: Olympus E-500 digital SLR camera
Exposure: 0.006 sec (1/160)
Aperture: f/14
Focal Length: 35 mm
ISO Speed: 100
Flash: Flash fired
Lens: Olympus Zuiko Digital 35mm F3.5 Macro
Location: Laupstad (Andørja), Troms in northern Norway