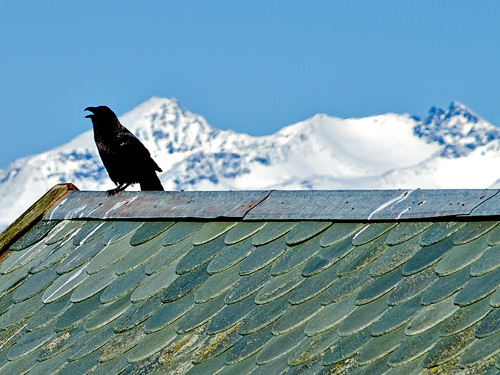 Taken with Olympus E500 digital camera April 23rd 2007. Click image for larger view.
Back in April I found this raven sitting on the roof our boathouse. Maybe it was Hugin or Munin?
Loved the way it the black raven created a contrast to the white snow-covered mountains and blue sky.
The mountains you see are located on the island Senja (the second largest island in Norway).
Check out my photo of a raven flying into "Gods eye".
Information about the picture:
Camera: Olympus E-500 digital SLR camera
Exposure: 0.002 sec (1/500)
Aperture: f/7.1
Focal Length: 150 mm
ISO Speed: 100
Lens: Olympus Zuiko Digital 40-150mm F3.5-4.5
Location: Laupstad, Andørja (Ibestad) in northern Norway