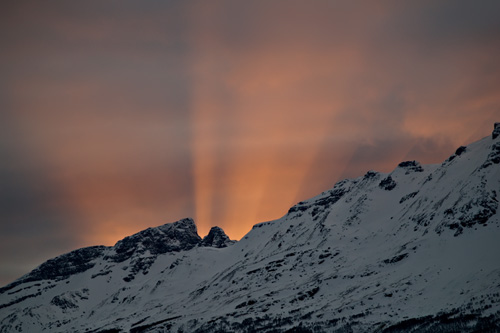 Taken with Olympus E500 digital camera January 20th 2007. Click image for larger view.
In this photo you can see sunbeams coming up from a mountain. It is the only time I have seen sunbeams shine the "wrong" way and I was wondering what was hiding behind those mountains.
As you can see by all the snow in the mountain, this picture was taken back in January (actually 3 days after I got my sweet camera) and at this time of the year we have no sun up here in northern Norway.
The days are not totally dark (referred to as Polar night) as we have twilight in the middle of the day, but the sun is gone for several months.
When the sun comes back in the end of January we use to celebrate and think about warmer times that includes midnight sun.
Do you think you could live in a place where there is no sunshine for several months?
For other pictures of the same mountain check this one and this one.
Information about the picture:
Camera: Olympus E-500 digital SLR camera
Exposure: 0.01 sec (1/100)
Aperture: f/4.1
Focal Length: 104 mm
ISO Speed: 100
Lens: Olympus Zuiko Digital 40-150mm F3.5-4.5
Location: Laupstad (Andørja), Troms in northern Norway