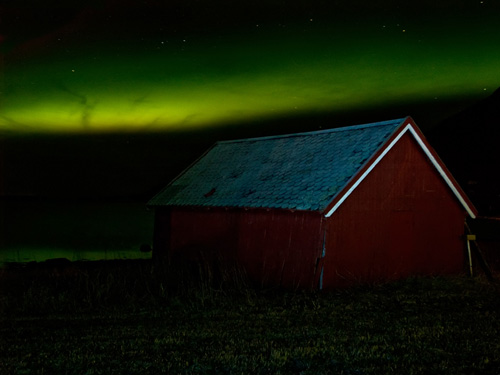 Taken with Olympus E500 digital camera December 31st 2007. Click image for larger view.
New Years Eve here in Northern Norway, brought some Northern Lights (Aurora Borealis) for me to photograph. I prefer this kind of fireworks to the noisy man-made fireworks that last for a couple of seconds. The spots in the sky are star trails as I used a 40 seconds exposure. I also used my LED headlight to lighten up the boatshed a bit.
This is actually my first attempt at Northern Lights photography and I'm pretty happy with the outcome, although I will do it a bit different the next time. Hope there will be lots more Northern Lights later this winter and that it will be a bit stronger.
Happy New Year! Hope 2008 will be great for you all 🙂
Have a look of the same boatshed when there is more light around.

Information about the picture:
Camera: Olympus E-500 digital SLR camera
Exposure: 40 sec (40)
Aperture: f/6.3
Focal Length: 22 mm
ISO Speed: 100
Lens: Olympus Zuiko Digital 11-22mm F2.8-3.5
Location: Laupstad (Andørja), Troms in northern Norway