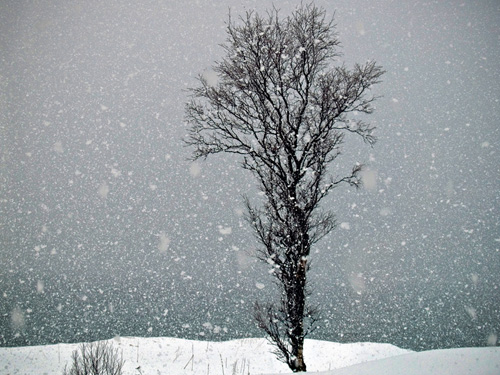 Taken with Olympus E500 digital camera March 3rd 2007. Click image for larger view.
I like the way I was able to capture the falling snow in this picture. The lonely tree and the greenish ocean in the background make the scenery look very desolate and cold.
Also check out this picture of my private Narnia forest and my 2009 Norway photo calendar 🙂 Also follow Photos from Northern Norway on Facebook.

Information about the picture:
Camera: Olympus E-500 digital SLR camera
Exposure: 0.005 sec (1/200)
Aperture: f/6.3
Focal Length: 32 mm
ISO Speed: 200
Lens: Olympus Zuiko Digital 14-45mm F3.5-5.6
Location: Laupstad (Andørja), Troms in northern Norway