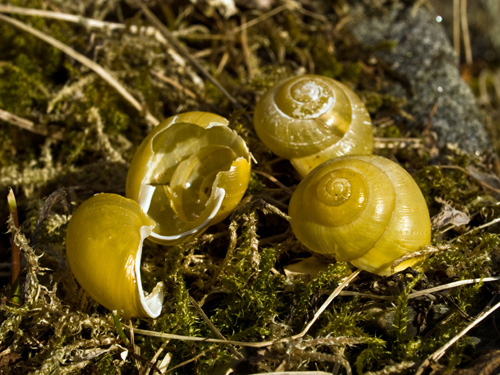 Taken with Olympus E500 digital camera April 2nd 2008. Click image for larger view.
In this picture you can see four yellow snail shells from some kind of land snail species. During the winter the markings on the shells has almost vanished so it is hard to say what species they are, but I'm guessing these are shells of white-lipped snails (Cepaea hortensis) as they are native pretty far north.
You may notice that a couple of the shells are broken. The broken shells combined with a lot of mice droppings around them make me suspect that mice have had a gastronomical meal.
Feel free to leave comment if you know what kind of snail species this is.
Check out this macro photo of a sea snail with seaweed as background.

Information about the picture:
Camera: Olympus E-500 digital SLR camera
Exposure: 0.008 sec (1/125)
Aperture: f/13
Focal Length: 35 mm
ISO Speed: 200
Lens: Olympus Zuiko Digital 35mm F3.5 Macro
Location: Sørvik (Andørja), Troms in Northern Norway