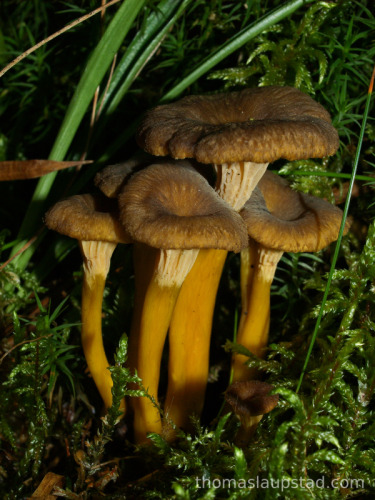 Taken with Olympus E500 digital camera September 18th 2008. Click image for larger view.
This autumn has been a really awaking for me when it comes to edible mushrooms (and toxic ones). I did not know much about mushrooms except for golden chanterelles and fly agarics. A friend wanted to learn more about mushrooms so we picked up a book at the library describing edible mushrooms. We went out into the forest and found several types of yummy mushrooms.
In this photo you can see Cantharellus tubaeformis (known as Yellow foot, Winter Chanterelle, Funnel Chanterelle and Yellow Legs in English) mushrooms. Funnel chanterelle was the mushroom that we found in largest quantities and we could easily fill a basket in an hour. The funnel chanterelle has a very pleasant taste and we used it in a lot of dishes. It is so great to be able to go out in the nature and harvest all the delicious goods from her 🙂
We actually found so much funnel chanterelles that we were able to dry a good deal. I photographed the whole process of drying so stay tuned to my RSS feed if you want to learn how to dry mushrooms.
Note: This photo were taken in the southeastern part of Norway. This photo should not be used to identify unknown mushrooms to check if they are edible or not. If you are not certain about a mushroom do not eat it!

Information about the picture:
Camera: Olympus E-500 digital SLR camera
Exposure: 0.006 sec (1/160)
Aperture: f/11
Focal Length: 35 mm
ISO Speed: 200
Flash used
Lens: Olympus Zuiko Digital 35mm F3.5 Macro
Location: Fjellstrand in Nesodden, Akershus in southeast of Norway