After I started taking photos four years ago, I have become bit of camera equipment geek. I daily check news and reviews about new cameras, lenses and other camera equipment like tripods and camera bags. There is a myriad of brands out there so it can be hard to choose what camera brand you should invest in, but on the internet there are websites with product information that helps you find good prices and ratings on the cameras. These sites have vast libraries with product information that can make it easier to find your and similar products.
There are also more specialized websites like the highly proclaimed (and my personal favorite) dpreview.com that has in depth reviews of the best cameras and lenses. When it comes to selecting your camera I also recommend that you go by a camera store to check how it feels in your hands and then go back to the net to find the best prices.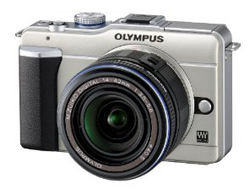 Olympus PEN E-PL1
I own an older DSLR from Olympus called E-500, but after moving to the city I found it too big, especially after I started reviewing restaurants and doing street photographing. After much research I ended up with the smaller Olympus Pen E-PL1 (pictured to the left) that has smaller camera body and lenses, but keeps the big image sensor from DSLR cameras. This camera is perfect for photographing food when there are not much light around as it take pretty good pictures at higher ISO levels.