Our family house in Northern Norway has been neglected for quite a few years now, because there is no one currently living there. Both on the outside and the inside, the house has signs of getting old (the house was built back in 1916). We are now looking into upgrading certain parts of the house to make it more modern to keep up with the today's needs, but still keeping the rustic feeling of the old days. The furniture market is one place we will look to find modern items that can be used to upgrade the living room and kitchen. The furniture is getting worn out and the kitchen could use some modern utensils like a dish washer and a new stove. Modernizing the house would be a smart move to maintain the value of the house and make it attractive if someone were to move back into the house.
Below you can see a picture of house taken back in 2008 on 17th of May (which is the National Day here in Norway). As you can see that the fencing badly needs some renovation. Hopefully we can pull together a good old "dugnad" where we invite family and friends to get together and put in a few hours to renovate the house. Dugnad is an old Norwegian tradition that can be useful if you do not have the budget to hire people to do the job for you. After the dugnad is done the participants use to get a good meal and drinks from the host, and have a great time together that can last until the early hours.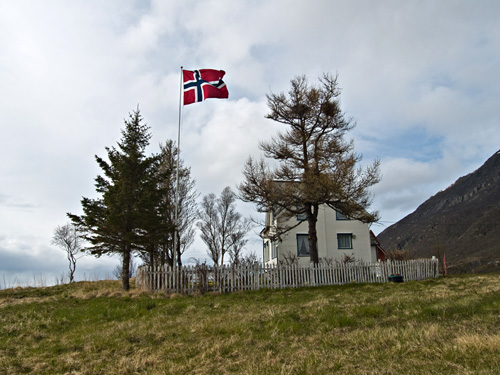 Taken with Olympus E500 digital camera May 17th 2008. Click image for larger view.