In this day and age mobile phones are getting increasingly popular and about everyone around here now has a smart phone, including myself. As a photographer a good mobile phone can be a great tool for the times when I do not have any of my "real" digital cameras with me. I often take everyday photos that I send to my friends or post on Facebook and Twitter. I haven posted a few of my pictures on this blog and on my restaurant review blog. There are tons of different phone models to choose from and most of them have some form of digital camera. You can for example find some Nokia Lumia deals if you are looking for a smart phone with digital camera. The next time I go shopping for a new phone I will definitely look into what kind of camera the phone is equipped with. It is not just about the amount of megapixels, but also how big the image processor is, how god the photo processing is and what kind of lens you get.
Nokia is famous for having great camera phones, but right now I own a pretty old Apple iPhone 3Gs that does not have the best camera. Below you can see a picture taken with my 3Gs when I was going to work in Oslo. While the quality of the picture probably could be better, the picture itself captures the cold and menacing winter weather very well.
Other times I have come across newsworthy situations like a robbery or famous people walking past. Then it is very useful to have a phone with a digital camera!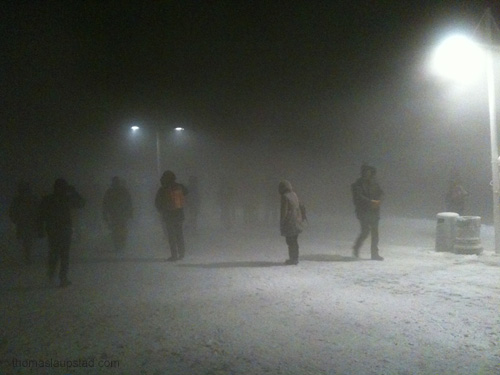 Taken with iPhone 3GS camera December 8th 2010. Click image for larger view.