As the camera technology evolves the amount of megapixels in the cameras seems to creep higher and higher. The same can be said with video files as the camera makers are putting better and better HD formats into their models. My latest camera purchase, the Olympus E-PL1, has about 12 megapixels which is pretty low compared to other camera models, but the files straight out of the camera are big.
While uploading pictures to sites like Flickr, Twitter and Facebook usually does not take that much bandwidth, uploading original files straight out of the camera can be quite heavy on your connection. As I prefer to store my files both locally and online as a way of doubling my back up I need a fast up link. There are many broadband and phone deals if you want to upgrade your connection.
I recently upgraded mine from 10 Mbps down link and 5 Mbps up link to 30 Mbps down and 10 Mbps up. With these speeds uploading and downloading large files takes little time (if the server you upload / download to supports such high speeds). The lines here in Oslo are very good and there are several companies competing so the price I have to pay for such a fast connection is not bad at all. My internet provider seems to have accurate speeds and you can check your connection over at the BBC speed test.
I'm thinking about starting with videography as my camera (see picture below) is quite good at recording videos, but then I have to consider if I need an even faster connection as video files can be extremely large. I have some ideas about making a new website where I post fishing videos from Northern Norway. I will see what happens after my trip to the north later this summer, maybe I have been able to record some large fish being caught.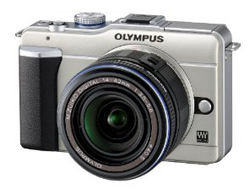 Olympus PEN E-PL1