One of my New Year's resolutions this year was to travel more abroad. While I have not been really successful with this goal, I hope to go on some trips later this year. I have already arranged for a trip to Berlin in Germany in September to visit some friends and see the city.
But I also want to go to more exotic locations outside of Europe. I especially want to go to places in Asia like Thailand, Vietnam and Japan since I love the cuisine and culture originating from those countries. I would also like to visit Australia and New Zealand, and there are many flights to Perth, Australia, and other places in the Southern Hemisphere.
Before traveling outside Europe I will do a lot of researching to figure out what places to visit and what is worth doing at the different places. I will especially do heavy researching when it comes to finding the best places to eat as I have in recent years turned into a bit of a foodie. I will also try to find areas where I can do landscape photography. One way to find interesting places to go is to use an online travel guide for Asia.
Even though I'm planing on going more abroad I will also visit Northern Norway each year to photograph the lovely scenery that can be seen up there. Just take a look at the picture below taken in the town of Harstad in Troms county.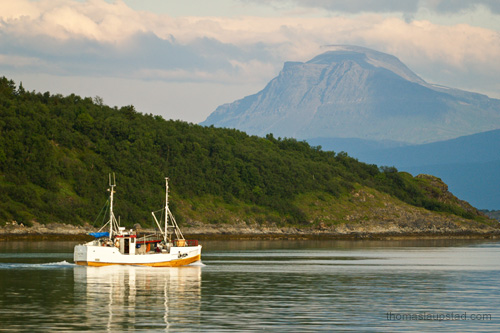 Taken with Olympus E500 digital camera July 31st 2010. Click image for larger view.