This summer I bought a house in Northern Norway. It actually is the house where I grew up so the house has a special place in my heart. As you can see in the picture below, the house is getting a bit old. It was built in 1916 so it is close to hundred years.
The house itself is in pretty good shape, but it needs some flicking like repairing a few roof stones and parts of the walls need a layer of paint. I also need to do some minor changes like new windows and exterior doors for better isolation against the cold winters in Northern Norway. Since I got access to areas in a forest where I can cut down trees I would like to also install a modern wooden stove to keep warm in the winter and save money on the energy bill.
Even though I do not live in this house it is important for me to keep the it in good shape both for the sentimental value and the financial value of the house. If I do nothing the property will fast deteriorate in the harsh conditions up in the north.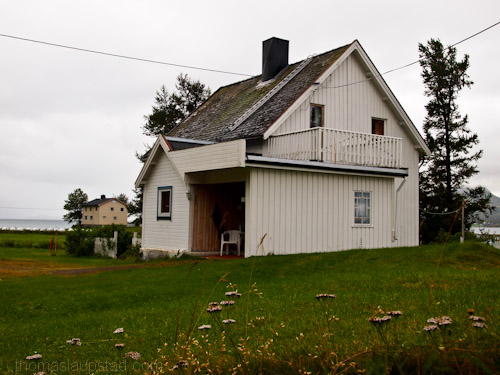 Taken with Olympus EPL-1 digital camera September 6th 2012. Click image for larger view.
Renovating an old house can be costly, and I also need to think about renovating the barn and the old boatshed that has got beatings from several hard autumn and winter storms. I have to try to keep the costs down by doing some of the work myself, and get help from the family and friends for larger renovating projects like straightening the boatshed and making a new fence around the property.
Information about the picture:
Camera: Olympus EPL-1 digital camera
Exposure 0.005 sec (1/200)
Aperture f/5.6
Focal Length 22 mm
ISO Speed 200
Location: Laupstad (Andørja), Troms in Northern Norway