I still post some photos from Northern Norway on this blog and there will be several (if not many) posts coming with pictures from my trip to Northern Norway in September this year.
But since I currently live in Oslo, in the southern part of the country, I will also post photos from this city and the surrounding area. There will in addition be some photos coming from my trips outside my country. The first trip I have planned is to go to Berlin in October to visit some friends. I have heard that this city contains many sights worth photographing.
In addition I want to go to other countries in Europe that I have not visited yet, like the Netherlands. In that country you can find Amsterdam hotels in great locations. It would be really cool to photograph some Dutch wind mills and see what kind of wild life you can find in the marsh lands.
I will also be traveling more in connection with my job to visit our other offices around the world. Hopefully I will be able to go on quite a few trips and find time to do some photographing in between the work. On these trips it can then be helpful to use online travel guides before going to another country or continent. Since my job got several offices and buildings in countries I'm not familiar with I will probably use such guides to get to know the countries and cultures. One country where this is very important is Pakistan where we are planing on building a new headquarter. I would love do to take some pictures of the exotic landscape that can be found in Pakistan.
Here is an example of a picture outside of Northern Norway, taken at Aker Brygge in Oslo: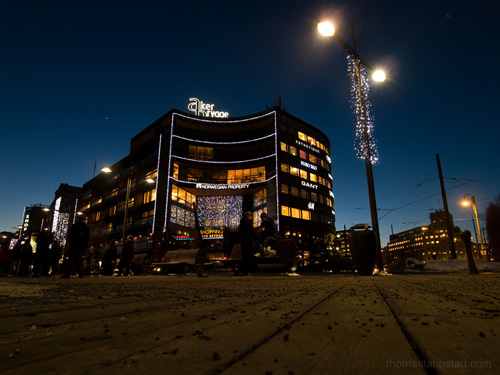 Taken with Olympus E500 digital camera February 26th 2009. Click image for larger view.