I feel very blessed living in Norway. The economy is good, crime is pretty low (even though the tabloid newspapers and TV channels love to make it out like there are boogeymen everywhere) and all in all most people live a good and healthy life. Of course there are things that we can do better in Norway and we should always strive for a better society, but most of us can not complain. Since we have it so good, we have become an attractive job market where people from all over the world come to my country to find available jobs. We welcome this as there are many vacant job opportunities and not enough qualified people. Because of this there are many recruitment companies that target the Norwegian market like Eurostaff Group and other agencies.
Most job markets, in Norway, where you need high education is looking for people, but there is one market that stands out. That is of course the oil industry that seems to be growing non stop. The oil industry is moving further north and even into areas pretty close to where I grew up. They are even finding new major oil fields in the North Sea where they thought the amount of oil would soon decline.
Although I'm a bit skeptical about the drilling for oil and gas in Northern Norway it seems inevitably that it will happen and there will oil and gas production close my house in the future. When this happen I really hope the industry and the ruling bodies are careful to not damage the precious nature and large fish stocks. It would be a catastrophe if we should see a large oil spill in that area. We have to remember that we can only use the oil once, but the fish are there "forever" if we are careful with the stocks and their habitats.
Hopefully we will see sceneries like in the picture below also in the future.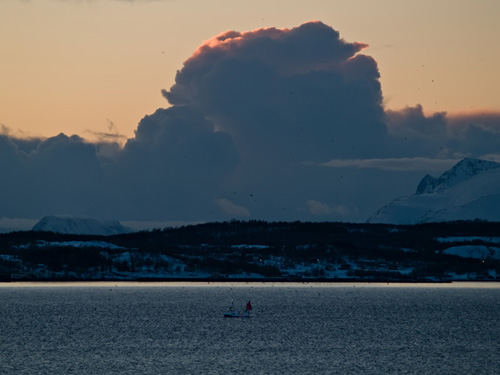 Taken with Olympus E500 digital camera March 4th 2008. Click image for larger view.