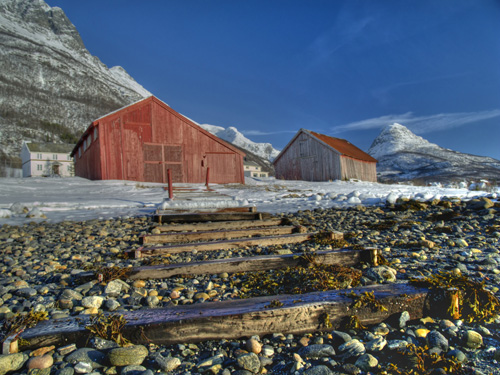 Taken with Olympus E-500 digital camera
I'm a big fan of the old boatsheds! They have such great texture and colors and tell stories about old times.
Notice the planks in the foreground that are used to get fishing boats out on the ocean without much hassle.
In the back you can see some beautiful mountains called Stakken and Snøtinden.

Information about the picture:
Camera: Olympus E-500 digital single-lens reflex camera
Exposure: 0.01 sec (1/100)
Aperture: f/6,3
Focal Length: 14 mm
ISO Speed: 100
Lens: Olympus Zuiko Digital 14-45mm F3.5-5.6
Location: Å, Andørja (Ibestad) in northern Norway.
Added some HDR to this photo.