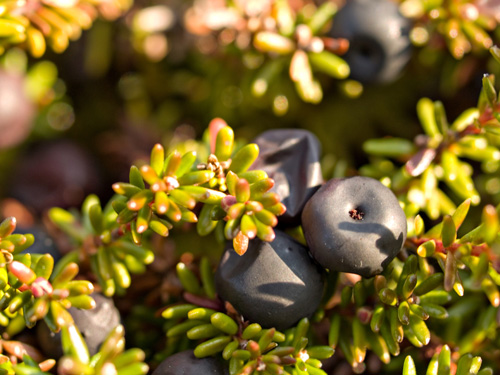 Taken with Olympus E-500 digital camera 26th March, 2007. Click image for larger view.
I really enjoy taking photos of the small wonders in nature. Like these crowberries (Empetrum nigrum) that are remains from last summer.
Crowberries is a small evergreen shrub with edible black fruit. They are not used much here, but are getting more popular for making juice and wine.

Information about the picture:
Camera: Olympus E-500 digital single-lens reflex camera
Exposure: 0.013 sec (1/80)
Aperture: f/3.5
Focal Length: 35 mm
ISO Speed: 100
Lens: Olympus Zuiko Digital 35mm F3.5 Macro
Location: Laupstad, Andørja (Ibestad, Troms) in northern Norway