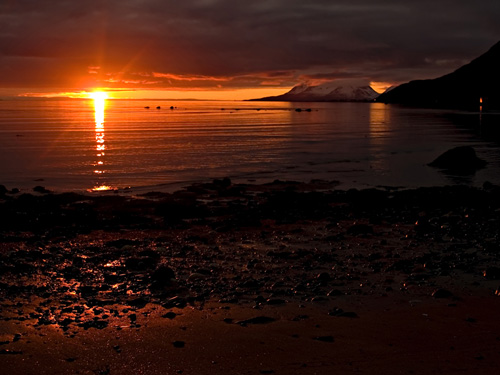 Taken with Olympus E-500 digital camera May 3rd 2007. Click image for larger view.
The days are getting longer and longer. This picture were taken at 10 PM in evening!
The nights are also getting very light and as I'm writing this, at 2 AM, the horizon is still orange.
We are just talking about a couple of weeks before the midnight sun is showing up here. I will be capturing it so you might want to visit this site later 🙂
Seeing this in real life was very breathtaking and I have to admit that the picture does not give credit to the sight.
Information about the picture:
Camera: Olympus E-500 digital single-lens reflex camera
Exposure: 0.01 sec (1/100)
Aperture: f/5
Focal Length: 30 mm
ISO Speed: 100
Lens: Olympus Zuiko Digital 14-45mm F3.5-5.6
Location: Ånstad, Andørja (Ibestad) in northern Norway