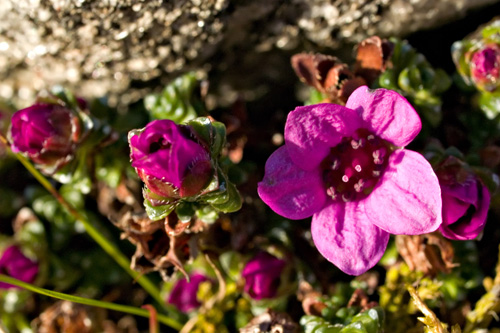 Taken April 19th, 2007. Click image for larger view.
This is Purple Saxifrage (Saxifraga oppositifolia), an arctic plant just living in the north or high up in the mountains. According to Wikipedia it is found at the most northerly plant locality in the world, 83°15'N in north Greenland.
Was actually the first flower I saw this year and I found it 400-500 meters up in the mountains.
Information about the picture:
Camera: Olympus E-500 digital single-lens reflex camera
Exposure: 0.013 sec (1/80)
Aperture: f/9
Focal Length: 35 mm
ISO Speed: 400
Lens: Olympus Zuiko Digital 35mm F3.5 Macro
Location: Up in the mountains at Å, Andørja (Ibestad, Troms) in northern Norway