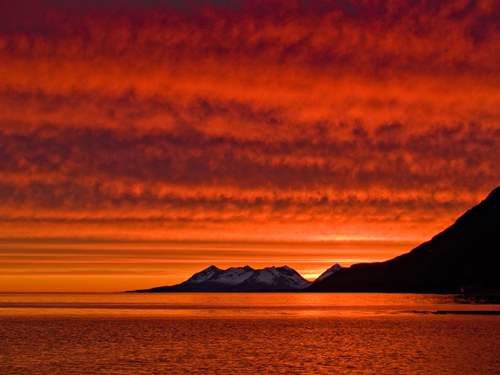 Taken with Olympus E500 digital camera on May 15th 2007. Click image for larger view.
This is one of the most amazing sights I have ever seen! I hope I have managed to recreate a small percentage of natures beauty in this shot.
The time was 11:30PM in the evening and whole sky and sea was red. When you see sights like this you take way too many shots. Afterwards it is really hard to decide on which picture to show.
Will be away for some time so the blog will be not be updated so frequently in the next couple of weeks, but will try to post some photos.
Please let me know if there is anything special you would like to see on my blog 🙂
Information about the picture:
Camera: Olympus E-500 digital single-lens reflex camera
Exposure: 0.025 sec (1/40)
Aperture: f/10
Focal Length: 42 mm
ISO Speed: 100
Lens: Olympus Zuiko Digital 14-45mm F3.5-5.6
Location: Ånstad, Andørja (Ibestad) in northern Norway