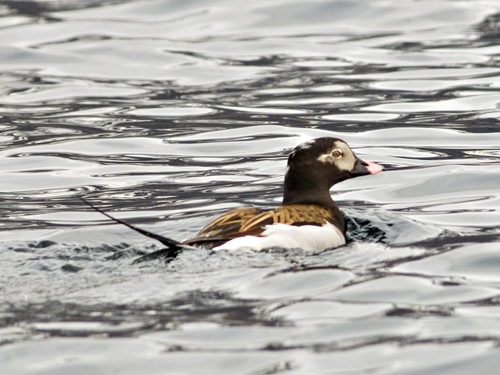 Taken on May 10th 2007. Click image for larger view.
This beautiful bird is called Long-tailed Duck (Clangula hyemalis), formerly known as Oldsquaw.
It lives in the cold northern oceans and large lakes in the North Atlantic region, Alaska, northern Canada, northern Europe and Russia.
In this shot you can see the summer plumage of the male of the species.
Information about the picture:
Camera: Olympus E-500 digital single-lens reflex camera
Exposure: 0.003 sec (1/400)
Aperture: f/7.1
Focal Length: 150 mm
ISO Speed: 200
Lens: Olympus Zuiko Digital 40-150mm F3.5-4.5
Location: Out on the ocean by Laupstad, Andørja (Ibestad) in northern Norway