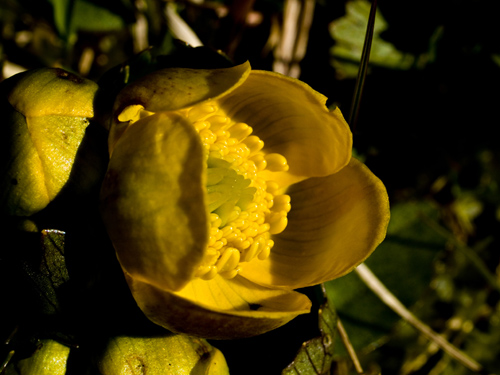 Taken with Olympus E500 digital camera on May 13th, 2007. Click image for larger view.
This is the flower (in the early stages of flowering) of Caltha palustris, commonly known as Kingcup or Marsh Marigold.
It is one of the first willd flowers to flower in the spring up here in the north.
The plant lives in wet areas, often close to rivers or bogs.
When I was a kid we used to call it "butter flower" and place the flower under eachothers chin to see if we liked butter. We loved butter if the sunlight reflected yellow light on our skin. Great fun 😉
If you look closely you can that some kind of insect have taken a bite of the flower.
Does this plant grow where you live or is it native to arctic areas? Please leave a comment to let me know.
Information about the picture:
Camera: Olympus E-500 digital single-lens reflex camera
Exposure: 0.006 sec (1/160)
Aperture: f/13
Focal Length: 35 mm
ISO Speed: 200
Lens: Olympus Zuiko Digital 35mm F3.5 Macro
Location: Laupstad, Andørja (Ibestad, Troms) in northern Norway