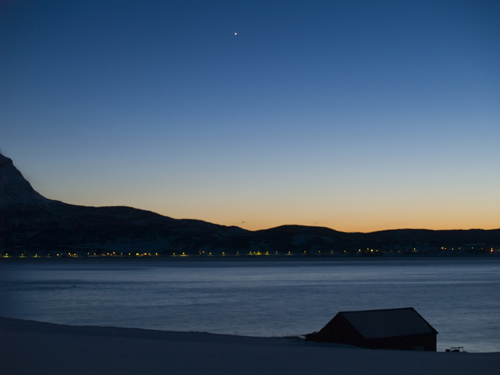 Taken with Olympus E500 digital camera on March 6th 2007. Click image for larger view.
This photo was shot on back in the beginning of March this year and I actually miss the winter a little bit.
I don't miss the cold, but miss the light that is very special in winter. Now it's daylight 24 hours a day and that is not so exciting photography wise.
Each season has good sides 🙂
You can see Venus shining over the boatshed and fjord making the scenery even nicer.


Information about the picture:
Camera: Olympus E-500 digital single-lens reflex camera
Exposure: 3.2 sec (16/5)
Aperture: f/5
Focal Length: 36 mm
ISO Speed: 100
Lens: Olympus Zuiko Digital 14-45mm F3.5-5.6
Location: Ånstad, Andørja (Ibestad) in northern Norway