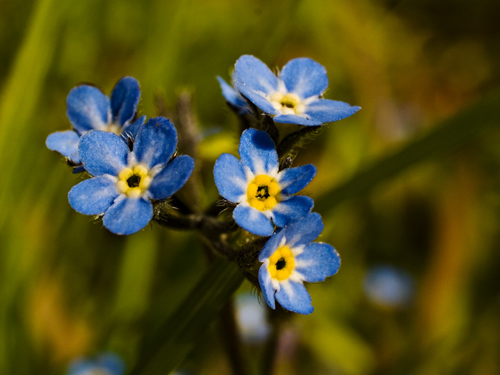 Taken with Olympus E500 digital camera on June 9th, 2007. Click image for larger view.
Found some wild forget-me-not (Myosotis) flowers. Not sure what exact species is, but they are really beautiful!
Hoping to get into the forest or up in the mountains in the days to come. Will look for some more wild flowers to capture with my dear camera.
Please subscribe to my RSS feed if you want to see what I find 🙂
Check out my other flower photos.
Information about the picture:
Camera: Olympus E-500 digital single-lens reflex camera
Exposure: 0.006 sec (1/160)
Aperture: f/11
Focal Length: 35 mm
ISO Speed: 200
Lens: Olympus Zuiko Digital 35mm F3.5 Macro
Location: Laupstad, Andørja (Ibestad, Troms) in northern Norway