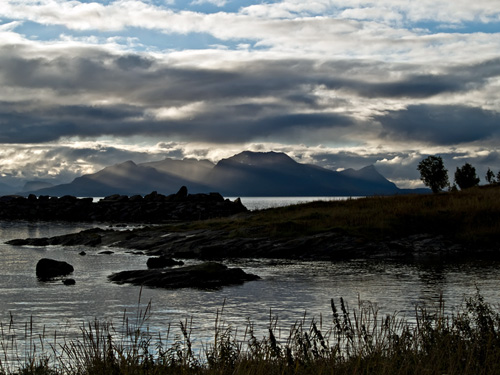 Taken with Olympus E500 digital camera September 16th 2007. Click image for larger view.
In this photo you can see typical coast landscape in northern Norway with the seawall and mountains sticking up from the ocean.
I love the way the sunbeams come out of the clouds and make the special light against the mountains. There is even some small patches of last years snow in the mountains.
Hope everyone looks at this photo in its larger size 🙂
Information about the picture:
Camera: Olympus E-500 digital SLR camera
Exposure: 0.005 sec (1/200)
Aperture: f/11
Focal Length: 40 mm
ISO Speed: 100
Lens: Olympus Zuiko Digital 40-150mm F3.5-4.5
Location: Laupstad, Andørja (Ibestad) in northern Norway