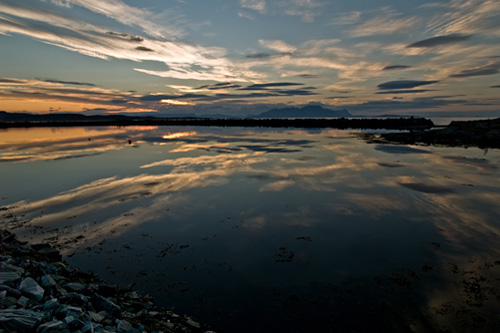 Taken with Olympus E500 digital camera September 30th 2007. Click image for larger view.
In this photo you can see the harbor where my boat is placed. I was walking home from a fishing trip when I noticed the nice reflection the sunset made inside of the seawall. Love the view you get from using a wide angle lens.
Check out this winter photo from the harbor and here is a picture of waves crashing over the seawall.
Information about the picture:
Exposure: 0.003 sec (1/400)
Aperture: f/5
Focal Length: 11 mm
ISO Speed: 200
Lens: Olympus Zuiko Digital 11-22mm F2.8-3.5
Location: Laupstad (Andørja), Troms in northern Norway
Not sure what I was thinking when I look at the EXIF data of the photo.