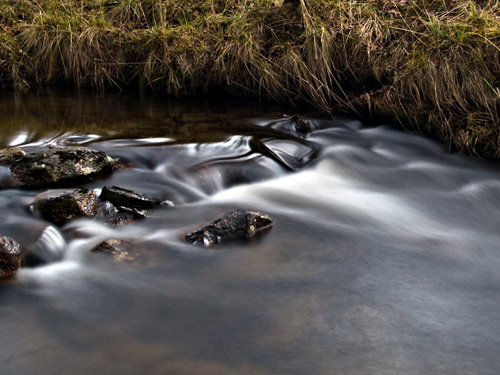 Taken with Olympus E500 digital camera October 21st 2007. Click image for larger view.
In this picture I have used a 10 seconds long exposure to create the foggy and metallic look on the river. I love the look running waters gets from long exposures.
It has to be pretty dark to be able to get long exposures or use a special filter. I don't have a filter like that so I had to wait for twilight. The forest seems very different when it gets dark. A bit spooky 😉
Check out this long exposure picture I took of a rocky beach.
Information about the picture:
Olympus E-500 digital SLR camera
Exposure: 10 sec (10)
Aperture: f/11
Focal Length: 22 mm
ISO Speed: 100
Lens: Olympus Zuiko Digital 11-22mm F2.8-3.5
Location: Ånstadbotn (Andørja), Troms in northern Norway