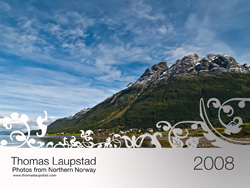 The calendar is updated for 2009!
Christmas is sneaking upon us extremely fast. Every year I have lots of trouble finding gifts for my friends and family.
Have you decided on what presents to get? If you haven't, check out my calendar with photos from Northern Norway.
The calendar consists of 12 pictures that I have hand picked to represent each month of the year.
You can check out the individual pictures here:
Check out my Cafepress shop to buy the calendar for only 24,99$.