A couple of weeks ago I caught a 24 kg (53 lb) heavy cod on a bottom-longline. This is the biggest fish I have caught in years so I was very excited when I dragged the huge fish up from the depth of the ocean.
The head was so big that it alone completely filled a 10 liter (2.5 gallon) bucket.
Here is a close up picture of the cod. If you click the image you can look at the picture in a bigger size.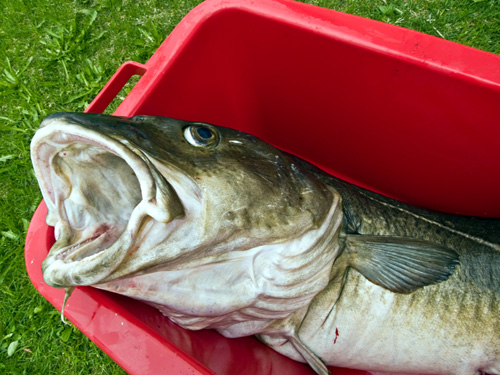 As I mentioned I used a bottom-longline to catch the cod. A bottom-longline is a long line filled with many hooks that are baited. I used some herring that I caught last year as bait since herring seems to be loved by larger fish. The longline is placed on the bottom of the ocean over night and is dragged with a lot of excitement as you never know what you might catch. I also caught a nice Atlantic halibut and some smaller cods along with the 24 kg cod.
Here is a picture of me, the proud fisherman with orange fishing-trousers, holding the big cod: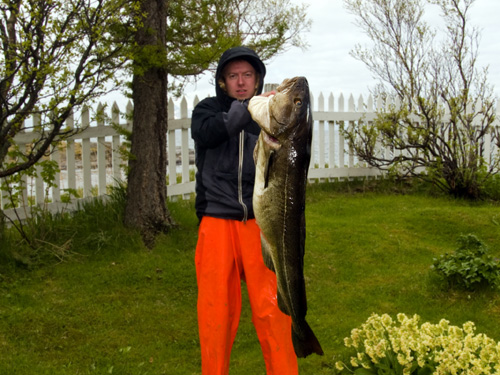 Information about the picture:
Camera: Olympus E-500 digital SLR camera
ISO Speed: 100
Lens: Olympus Zuiko Digital 11-22mm F2.8-3.5
Location: Laupstad (Andørja), Troms in northern Norway