The starling couple that I photographed and blogged about in this post laid eggs in the birdhouse on our barn this year too. Here is some pictures that of the starlings feeding their young.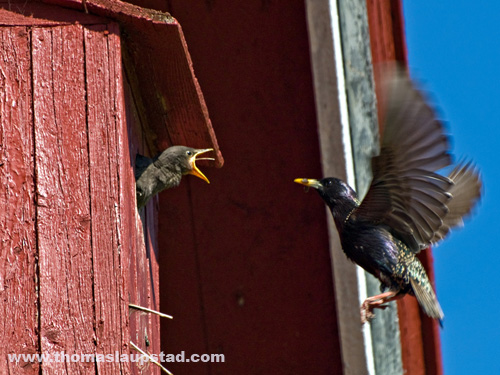 Taken with Olympus E500 digital camera June 6th 2008. Click image for larger view.
It seems like this young starling was really excited to get a taste of the delicious bug. Notice the tongue sticking out 😉

Ahh, food! The parent really makes sure that the young starling is swallowing her/his food.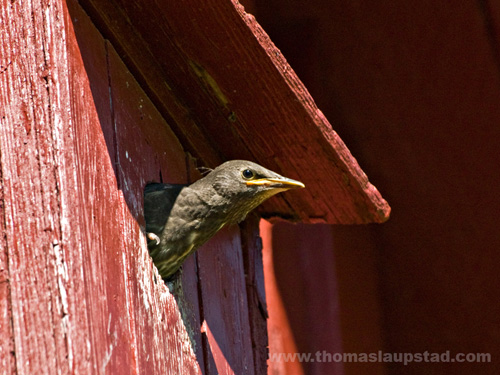 The young starling waits for more bugs to arrive. If you click on the image to view it large you can see a cute little feather on the head of the young starling.
I wonder how the other young birds are able to get food when this one is blocking their access to feasting on bugs..

This parent starling seemed a bit worried about my presence, but a few moments later it fed the larvae to a hungry young starling.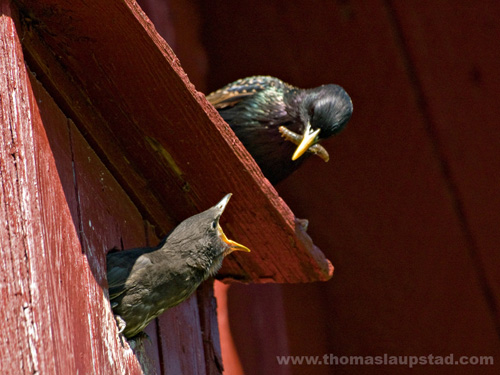 Trying to reach each other..
The young birds are now out of the birdhouse and the starling couple lays on a second batch of eggs.
I want to thank the starlings for posing for me and keeping down the bug population in the neighborhood 🙂

Information about the pictures:
Camera: Olympus E-500 digital SLR camera
Exposure: 0.002 sec (1/500)
Aperture: f/8
Focal Length: 300 mm
ISO Speed: 200 and 400
Lens: Olympus Zuiko Digital 70-300mm F4.0-5.6
Location: Laupstad (Andørja), Troms in Northern Norway