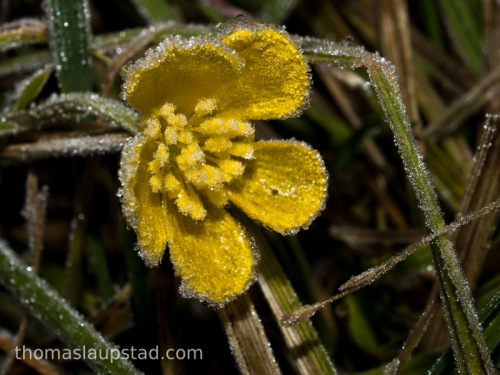 Taken with Olympus E500 digital camera October 14th 2008. Click image for larger view.
The winter is getting closer here in Norway and some nights have been below the freezing point. If you get up early before the sun starts to warm up the place you can discover that the landscape is covered with rime (frost).
Here I have photographed a Meadow buttercup flower (Ranunculus acris) that was covered with rime and I think it looks quite beautiful.
The Meadow buttercup flower is probably one of the last flowers I will be able to photograph in the wild this year, but the dark seasons will hopefully bring many photo opportunities too.
Check out this picture that I have taken laying down in a buttercup field in the beginning of summer.

Information about the picture:
Camera: Olympus E-500 digital SLR camera
Exposure: 0.006 sec (1/160)
Aperture: f/11
Focal Length: 35 mm
ISO Speed: 100
Flash used
Lens: Olympus Zuiko Digital 35mm F3.5 Macro
Location: Fjellstrand in Nesodden, Akershus in southeast of Norway