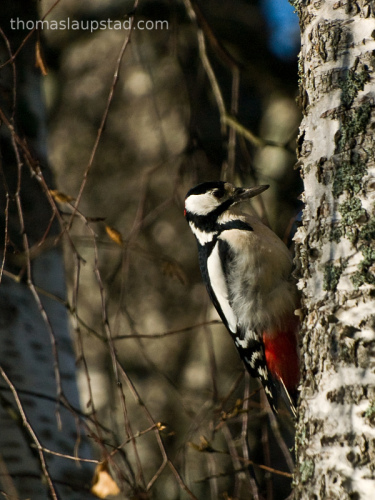 Taken with Olympus E500 digital camera October 19th 2008. Click image for larger view.
Here I have photographed a beautiful Great Spotted Woodpecker (Dendrocopos major) bird. This is the first time I have ever photographed a woodpecker as they are pretty rare and often fly off before you are able to take a good photo. The Great Spotted Woodpecker is one of our biggest woodpeckers and it is the most common woodpecker bird in Europe. The Great Spotted Woodpecker is about 25 cm long and weighs 70–90 g.
In the winter the bird eats seeds from spruce and pine trees, and some bark beetles. During the summer it mainly eats insects, but the Great Spotted Woodpecker is also known for breaking into nests and eating the young birds.
Check out my other photos of Norwegian birds here.

Information about the picture:
Camera: Olympus E-500 digital SLR camera
Exposure: 0.001 sec (1/2000)
Aperture: f/5.6
Focal Length: 300 mm
ISO Speed: 400
Lens: Olympus Zuiko Digital 70-300mm F4.0-5.6
Location: Fjellstrand in Nesodden, Akershus in southeast of Norway