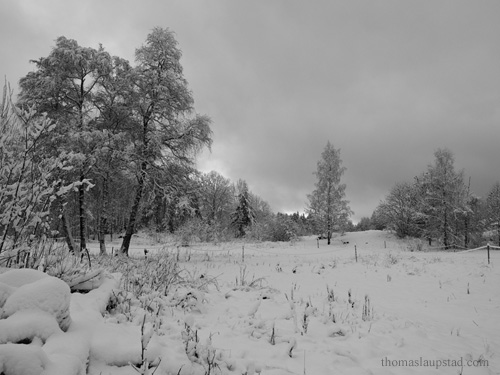 Taken with Olympus E500 digital camera December 3rd 2008. Click image for larger view.
Here I have photographed the landscape outside my house in Nesodden (Akershus county in southeastern Norway) after a fresh snowfall. The snow covered everything with a thick layer of white crystals making the landscape calm and quiet.
Fresh snow can look very good and makes many photo opportunities. I turned this picture into black and white since the scenery didn't contain many colors and BW often fits snow sceneries very well.
I'm a bit surprised with the winter here in southeastern part of Norway as I thought it would be much warmer than I'm used to from the north. It has actually snowed more here than the average Northern Norway-winter, but you don't get the cold winds from the arctic sea here in the south.
Check out my other winter photos here and buy my 2009 photo calendar here.

Information about the picture:
Camera: Olympus E-500 digital SLR camera
Exposure: 0.003 sec (1/400)
Aperture: f/3.5
Focal Length: 15 mm
ISO Speed: 100
Lens: Olympus Zuiko Digital 11-22mm F2.8-3.5
Location: Fjellstrand in Nesodden, Akershus in southeast of Norway