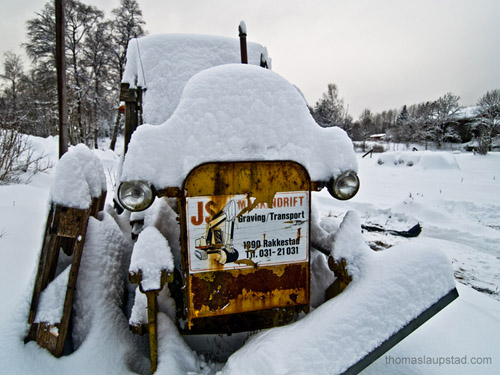 Taken with Olympus E500 digital camera January 19th 2009. Click image for larger view.
We had a crazy snowfall here in southeastern Norway a few days ago. During a few hours the sky sent 40-50 cm down upon us. The media reported about tons of cards ending up outside of the road because the roads were filled with snow. It was like I had moved back to Northern Norway when I was looking out at the heavy snowfall 😉
Here I have photographed an old tractor covered with snow. You get some indication of the depth of the snow when you look on the front of the tractor.
I played a bit around in Adobe Lightroom with the different adjustments to make the picture a bit more interesting.
Advertisement: Have you tried Chitika Premium on your blog? I have been making some extra money from the search engine traffic that I get here on Photos from Northern Norway from Chitika. Always nice to add some cash to my camera equipment budget.

Information about the picture:
Camera: Olympus E-500 digital SLR camera
Exposure: 0.002 sec (1/640)
Aperture: f/2.9
Focal Length: 13 mm
ISO Speed: 100
Lens: Olympus Zuiko Digital 11-22mm F2.8-3.5
Location: Fjellstrand in Nesodden, Akershus in southeast of Norway