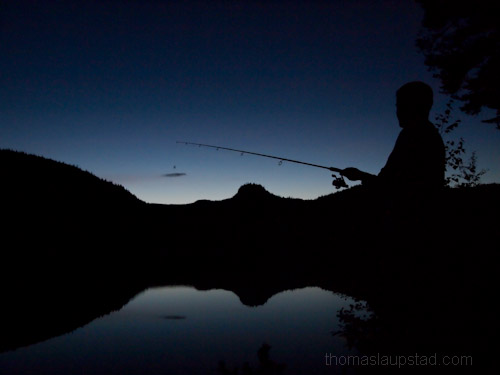 Taken with Olympus EPL-1 digital camera July 29th 2011. Click image for larger view.
Nordmarka outside Oslo is a great place for outdoor activities. Last year I went on an open-air camping trip during the summer and in this picture we were out fishing for trout around midnight. We did not catch much fish, but we had a wonderful time with great weather and even greater scenery. The few fish we actually caught was grilled over an open fire, some of the best tasting fish I have ever had!
It was actually a bit weird for me that the night was as dark as this, as I'm used to midnight-sun evenings when I lived in Northern Norway. See some of my favorite pictures of the midnight sun here.
Please see me other photo taken this winter from a skiing trip in Nordmarka.
Information about the picture:
Camera: Olympus EPL-1 digital camera
Exposure 0.125 sec (1/8)
Aperture f/3.5
Focal Length 14 mm
ISO Speed 1600
Lens: Olympus M.Zuiko Digital ED 14-42mm f3.5-5.6
Location: Nordmarka in Oslo, Norway