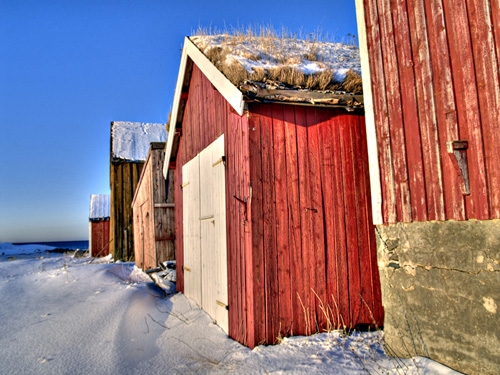 Taken with Olympus E500 digital camera February 15th 2007. Click image for larger view.
I really liked the rural look on this row of boathouses. The grass roof doesn't hurt the scene with it's old look. Boathouses like this represent the old fishing culture here in Norway in a good way. I hope people will take care of these beautiful buildings!
This is also my most popular photo on Flickr. It has received almost 11,000 views and been made favorite 70 times. It reached the fourth position in Flickr Explore on the day the picture was uploaded.
Flickr Explore is an algorithm that chooses the 500 most popular pictures (out of millions!) being uploaded to Flickr each day so it is quite an honor to reach the fourth position.
In this picture I have used something called HDR (High dynamic range) to make the picture look a bit different.
Check out my other boatshed pictures here.
Information about the picture:
Camera: Olympus E-500 digital SLR camera
Exposure: 0.008 sec (1/125)
Aperture: f/6,3
Focal Length: 17 mm
ISO Speed: 100
Lens: Olympus Zuiko Digital 14-45mm F3.5-5.6
Location: Laupstad, Andørja (Ibestad) in northern Norway
Like the picture? Make a Paypal donation to support the site.