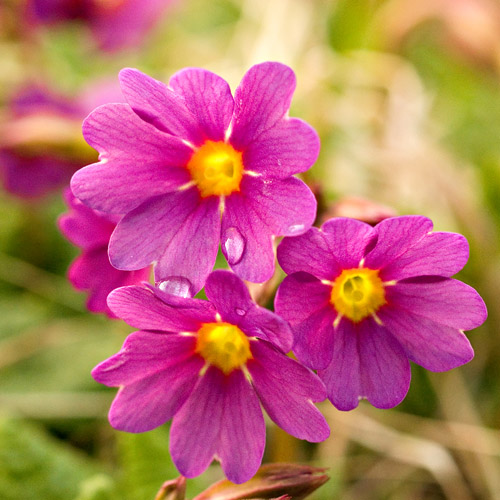 Taken with Olympus E500 digital camera May 3rd 2007. Click image for larger view.
Time for a picture from the spring to remind ourselves of warmer times to come 🙂
The Primula got it's name from the Latin word Primus that means "the first one". It got it's name because it is one of the first flowers to blossom in the spring.
The flowers are native to the temperate Northern Hemisphere, south into high altitude tropical mountains in Ethiopia, Indonesia and New Guinea, and are also found in temperate southern South America.
There are amazingly 400-500 species of Primula and some of species are called primrose, auricula, cowslip and oxlip. I have just seen a handful, but there are some really nice color combinations out there.
Up here in the north it is a very usual garden flower and it is spreading everywhere. Have you got Primula in your garden? Feel free to leave a comment 🙂
Check out a few other flower pictures I have photographed:

Information about the picture:
Camera: Olympus E-500 digital SLR camera
Exposure: 0.01 sec (1/100)
Aperture: f/4
Focal Length: 35 mm
ISO Speed: 400
Lens: Olympus Zuiko Digital 35mm F3.5 Macro
Location: Laupstad (Andørja), Troms in northern Norway