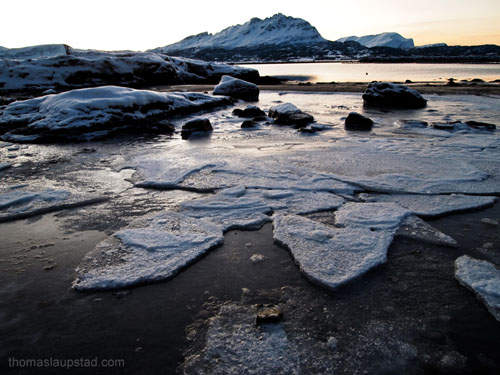 Taken with Olympus E-PL1 digital camera December 28th 2010. Click image for larger view.
This Christmas I visited the family in Northern Norway. There was a few moments where I got time for some photo shooting in the familiar surroundings in the north. Here I was walking at the coastline and I found these ice flakes to be pretty with the winter mountain (that often appears in my photos) in the background. I had to photograph the winter landscape to document another winter in the north!
The light that one can experience midwinter in Northern Norway is pretty awesome with its deep blue colors and signs of the sun coming back, but one got to remember thick clothes and gloves suited for photography.
Please see my other winter pictures here.

Information about the picture:
Camera: Olympus E-PL1 digital camera
Exposure 0.013 sec (1/80)
Aperture f/3.5
Focal Length 14 mm
ISO Speed 200
Lens: Olympus M.Zuiko Digital ED 14-42mm f3.5-5.6
Location: Laupstad (Andørja), Troms in Northern Norway