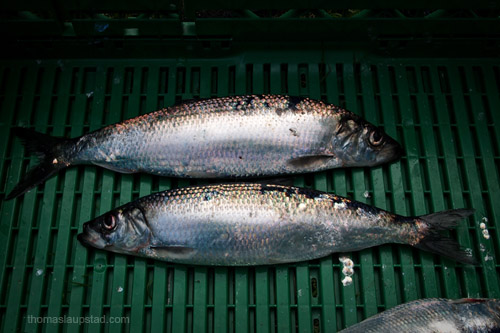 Taken with Olympus EPL-1 digital camera September 4th 2011. Click image for larger view.
Here is have photographed a couple of Atlantic herring (Clupea harengus) that I caught in a net when I was visiting Northern Norway in September this year. The herring is one of the most important types of fish on the coast of Norway. We mostly use to catch herring in the fall when schools of the fish come into the fjords. We use the herring both as food and as bait to catch other fish like the Atlantic halibut. If the herring is used for food it is usually fried whole or salted for later use.
Personally I prefer to use herring as bait as I'm not the biggest fan of the special taste from this oily fish.
Check out my other fish pictures here.

Information about the picture:
Camera: Olympus EPL-1 digital camera
Exposure 0.005 sec (1/200)
Aperture f/7.1
Focal Length 20 mm
ISO Speed 200
Location: Laupstad (Andørja), Troms in Northern Norway