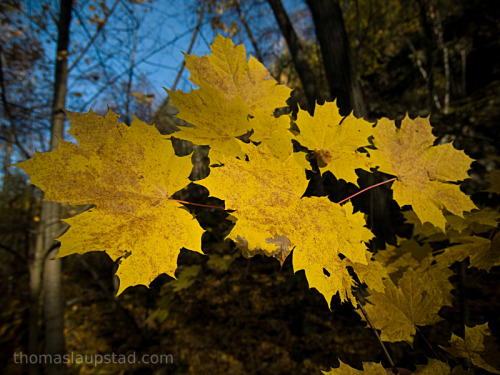 Taken with Olympus E500 digital camera October 19th 2008. Click image for larger view.
In this picture you can see some Norway maple (Acer platanoides) leaves that I photographed this autumn. I really like the shape of maple leaves and with autumn colors they can be a stunning sight. The sun were shining through the tree tops unto the leaves so I just had to take a picture of them.
The autumn colors are almost gone now so it is nice to able to look some pictures and remember how nice it was.
The Norway maple is the only type of maple tree that is native to Norway. The maple trees grow in the southern part of Norway where the climate is a bit warmer.
Check out my other photo from the same trip of the forest floor covered with leaves and my other autumn pictures here. Note: This photo was taken in the southeastern part of Norway.

Information about the picture:
Camera: Olympus E-500 digital SLR camera
Exposure: 0.001 sec (1/1600)
Aperture: f/3.2
Focal Length: 11 mm
ISO Speed: 200
Lens: Olympus Zuiko Digital 11-22mm F2.8-3.5
Location: Fjellstrand in Nesodden, Akershus in southeast of Norway