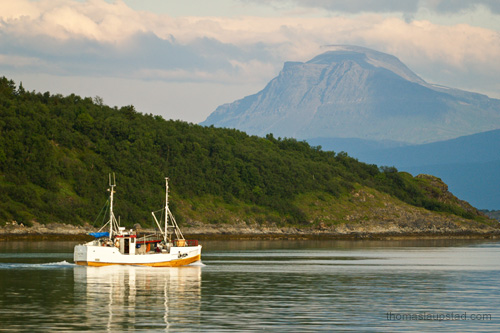 Taken with Olympus E500 digital camera July 31st 2010. Click image for larger view.
I was just on a short visit in Northern Norway this summer. I did not have much time for photography, but found some minutes while waiting on a ferry to get home to the place where I grew up. While waiting this old wooden fishing boat passed out on the fjord so I had to take a picture of the boat with a lovely mountain in the background.
I love these old fishing boats as they tell a story how the fisheries used to be in Norway. Due to modern fishery politics many of these wooden boats have been demolished because the government wanted a more effective fishing fleet with fewer and bigger boats, but there are a few left and even some that still are partaking in the coastal fisheries. Even the boats that were owned by my family were sunken in the 50ies, which I find really sad. Hopefully we will have more sensible fisheries in the future so we will not destroy the fish stocks and the rest of the environment in our oceans.
Please take a look at my other pictures of boats here.

Information about the picture:
Camera: Olympus E-500 digital SLR camera
Exposure 0.001 sec (1/1600)
Aperture f/2.8
Focal Length 150 mm
ISO Speed 200
Lens: Sigma 150mm F2.8 EX APO DG HSM Macro
Location: Harstad, Troms in Northern Norway