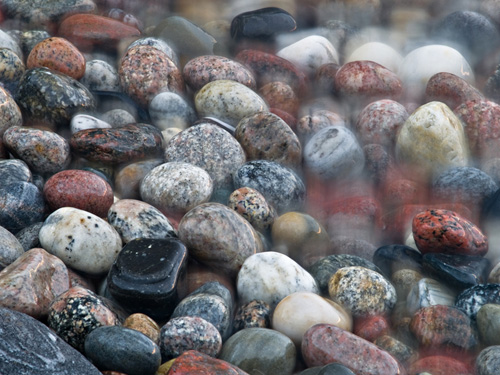 Taken with Olympus E500 digital camera on July 9th 2007. Click image for larger view.
I got a comment on Flickr, by BobG, that this picture would be great as a wallpaper on a computer screen. Steve, author of the great blog cyrum66, recently wanted another picture as desktop background (thanks for the donation Steve!).
So I got the idea to make this pebble picture available as a free download.
Download the 1024×768 version of the picture here. Drop me a line if you should need an even larger version. I got it up to 3264×2448.
The picture is only available for personal use and should not be used commercially.
I would like to hear what my readers think of this idea. Think it can make my blog more popular?
What you see on the picture is me experimenting with a long shutter time. I placed the camera on a tripod and made the camera take the photo for 10 seconds so small waves would roll over some of the pebbles. This make the foggy effect you can see on the right side of the picture.
Information about the picture:
Camera: Olympus E-500 digital SLR camera
Exposure: 10 sec (10)
Aperture: f/22
Focal Length: 150 mm
ISO Speed: 100
Lens: Olympus Zuiko Digital 40-150mm F3.5-4.5
Location: Ånstad, Andørja (Ibestad) in northern Norway