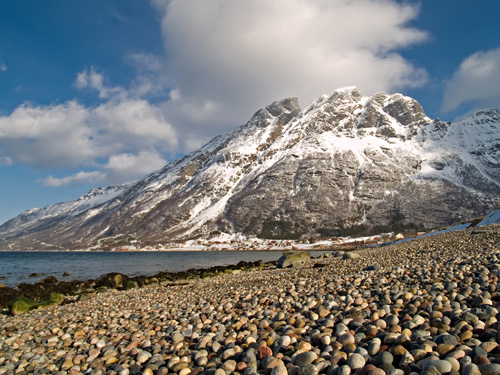 Taken with Olympus E500 digital camera on March 23rd 2007. Click image for larger view.
This photo was taken back in March when there was still lots of snow around.
I really love this beach full of millions of small pebble stones. It is very special to walk on it and listen to waves rolling in.
The reason I'm posting this photo today is that I was contacted on Flickr about this particular picture. The person contacting me are making a book about "Hurtigruten" (English: Costal Express) in Norway and wanted to use this shot in their book. I'm very excited about this because I have never been printed before!
The project is very low budget so all I'm getting from it is a free book and of course my name in it, but the satisfaction of getting printed is payment enough.
Huritigruten (or Hurtigruta as we call it in northern Norway) is a passenger and freight line that sails daily along most of of our long coastline. The trip takes 11 days and is very popular among tourists.

Information about the picture:
Camera: Olympus E-500 digital single-lens reflex camera
Exposure: 0.003 sec (1/320)
Aperture: f/8
Focal Length: 14 mm
ISO Speed: 100
Lens: Olympus Zuiko Digital 14-45mm F3.5-5.6
Location: Ånstad, Andørja (Ibestad) in northern Norway