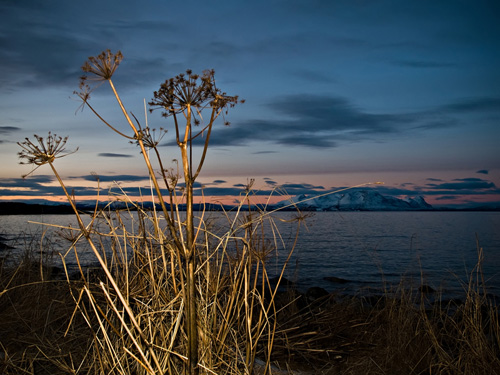 Taken with Olympus E500 digital camera December 8th 2007. Click image for larger view.
In this picture you can see a plant called Garden Angelica (Angelica archangelica ssp. litoralis), also known as Holy Ghost, Wild Celery, and Norwegian Angelica, in its winter suit. The plant grows wild in northern parts of Norway, Sweden, Finland and Iceland, but is also cultivated in France.
Garden angelica is well known to be used as spice, food and medicine here in Norway. Back in the days Sami people and Eskimos used Garden angelica as a way of preventing scurvy.
Check out this other Arctic plant called Roseroot that I photographed a while back.
As you might notice I played with my flash in this picture. I used the flash because there was so little light and I wanted to keep the sunset colors in the horizon. It was taken midday so you can see that we don't have much light here.

Information about the picture:
Olympus E-500 digital SLR camera
Exposure: 0.067 sec (1/15)
Aperture: f/8
Focal Length: 18 mm
ISO Speed: 100
Lens: Olympus Zuiko Digital 11-22mm F2.8-3.5
Flash used
Location: Laupstad (Andørja), Troms in Northern Norway