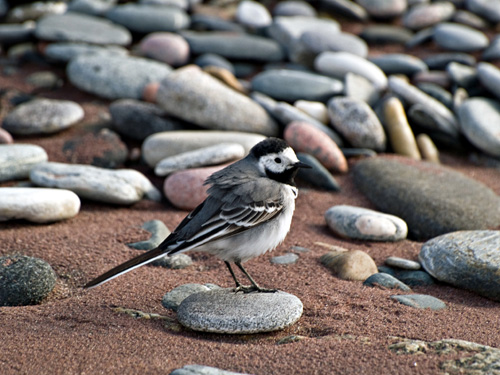 Taken with Olympus E500 digital camera April 25th 2008. Click image for larger view.
The cute white wagtail (Motacilla alba) birds are back! It is so nice to see new birds almost every day as it gets warmer and warmer. All the new birds are a good reason to go outside with a camera and capture some pictures.
The white wagtail is personal favorite of mine because of the way the bird hunt insects. The wagtail usually walks around and then suddenly fly up in an irregular way to catch some kind of yummy insect. They are very fascinating to watch and I'm thankful that they keep the fly population down.
I love the red color on the sand corns on this beach. I'm not sure why the sand is so red, but it looks very different from the other beaches around.
Check out this picture from last spring of a white wagtail sitting on a stone. Maybe it is the same bird?

Information about the picture:
Camera: Olympus E-500 digital SLR camera
Exposure: 0.004 sec (1/250)
Aperture: f/7.1
Focal Length: 300 mm
ISO Speed: 200
Lens: Olympus Zuiko Digital 70-300mm F4.0-5.6
Location: Ånstad (Andørja), Troms in Northern Norway