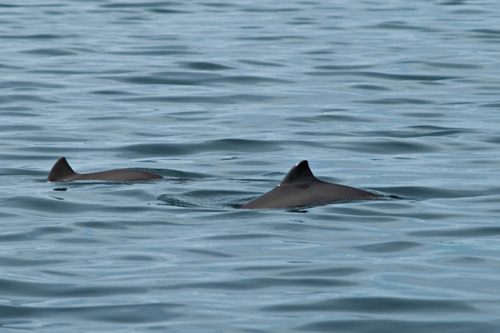 Taken with Olympus E500 digital camera June 22nd 2007. Click image for larger view.
Harbour Porpoise (Phocoena phocoena) is one of the smallest mammals living in the sea.
In this picture you can see two Harbour Porpoise swimming very close to my boat when I was out fishing last summer. They got a bad reputation of scaring the fish away so I wasn't too happy to see the small whales.
The Harbour Porpoise can be very fascinating to observe when they hunt for fish as they swim extremely fast and make loud breathing noises when they come to the surface for a short moment. The whales can also be very curious animals (especially the young Harbour Porpoise) and can approach boats. I have several times experienced Harbour Porpoise swimming around and under my boat like some playful dolphins.
Hope I will never experience a porpoise getting caught on my fishing tackle. That would be some some ride! 😉

Information about the picture:
Camera: Olympus E-500 digital SLR camera
Exposure: 0.003 sec (1/400)
Aperture: f/6.3
Focal Length: 150 mm
ISO Speed: 100
Lens: Olympus Zuiko Digital 40-150mm F3.5-4.5
Location: On fjord by Laupstad (Andørja), Troms in Northern Norway