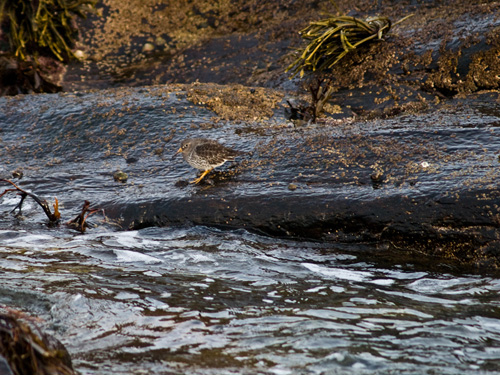 Taken with Olympus E500 digital camera March 17th 2008. Click image for larger view.
The Purple Sandpiper (Calidris maritim or Erolia maritima) is a small shorebird (about 22cm) that live on the coast here in Northern Norway. While many birds migrate to warmer climate during the winter this bird stay here throughout the winter.
The Purple Sandpiper eat mainly eat insects and mollusks, but when I came across this bird it was feeding on some algae on the rocks. The plumage is a great camouflage among all the seaweed and dark rocks. Often I'm not able to spot these birds before they get frightened and take flight.
This species is very tame so I was able to get very close with my rowboat to get a picture of the Purple Sandpiper. I still wish I had a lens with better zoom to get an even closer look.
Take a look at my picture of a Long-tailed Duck that I photographed last winter.

Information about the picture:
Camera: Olympus E-500 digital SLR camera
Exposure: 0.004 sec (1/250)
Aperture: f/4.5
Focal Length: 150 mm
ISO Speed: 400
Lens: Olympus Zuiko Digital 40-150mm F3.5-4.5
Location: Laupstad (Andørja), Troms in Northern Norway