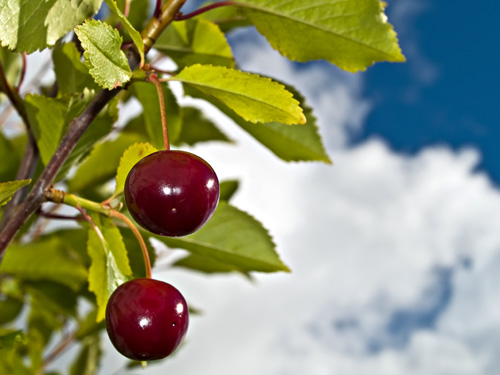 Taken with Olympus E500 digital camera on August 27th, 2007. Click picture for larger view.
I planted a cherry tree this spring and now my first ever berries are ripe. I'm kind of amazed that they would become edible so far north and let me tell you that they taste great 🙂
Not many berries to harvest this year because the tree is still so young.
I photographed the cherry flowers back in June. Check out the photo here.
Information about the picture:
Camera: Olympus E-500 digital SLR camera
Exposure: 0.006 sec (1/160)
Aperture: f/11
Focal Length: 35 mm
ISO Speed: 100
Flash: Flash fired
Lens: Olympus Zuiko Digital 35mm F3.5 Macro
Location: Laupstad (Andørja), Troms in northern Norway