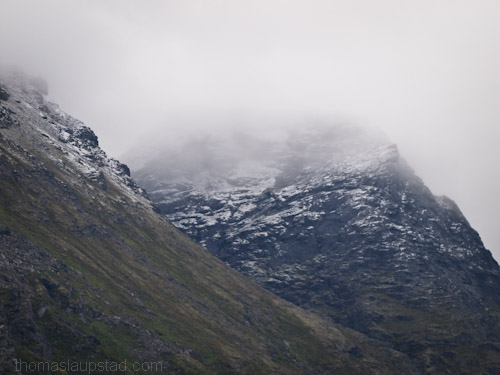 Taken with Olympus EPL-1 digital camera September 8th 2012. Click image for larger view.
The autumn is getting closer and closer. Today when I woke up there was snow in on top of the highest mountains here in Northern Norway. The mountain in this picture is called Ã…tinden and it is 1108 meters above sea level. This summer has been pretty cold so it is no surprise that we already are seeing signs of the winter to come. But this snow fall will not last and probably melt away later in the day.
Please see my other mountain pictures here.
Information about the picture:
Camera: Olympus EPL-1 digital camera
Exposure 0.002 sec (1/640)
Aperture f/5.0
Focal Length 150 mm
ISO Speed 200
Lens: SIGMA 150mm F2.8 MACRO HSM
Location: Åtinden from Laupstad (Andørja), Troms in Northern Norway