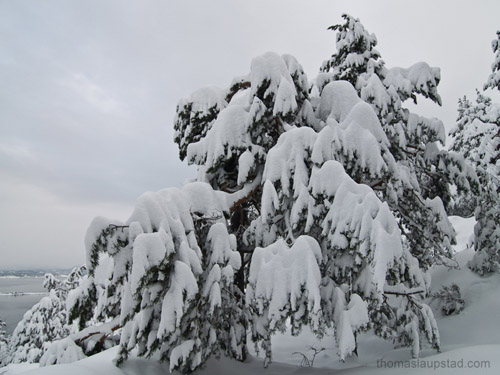 Taken with Olympus E500 digital camera February 8th 2009. Click image for larger view.
We have been having some crazy snowfalls lately here in Southern Norway (I moved to the south from Northern Norway half a year ago for those who don't know). Some people might think all the snow means a lot of trouble, but I like it. It is fun to play in the snow with the kids and it creates many good photo opportunities.
In this photo you can see a pine tree totally covered in snow. All the snow on the branches show how much snow that really came in a matter of a few hours.
I found the pine tree when I was walking in the forest with snow up to my hip. It was hard walking, but it was wonderful to watch all the untouched snow.
Check out my other photo of a pine tree in winter landscape and other snow pictures here.

Information about the picture:
Camera: Olympus E-500 digital SLR camera
Exposure: 0.002 sec (1/500)
Aperture: f/3.5
Focal Length: 11 mm
ISO Speed: 100
Lens: Olympus Zuiko Digital 11-22mm F2.8-3.5
Location: Fjellstrand in Nesodden, Akershus in southeast of Norway